Ekhwan Web Solutions is an efficient and reliable Internet solution provider established in 2001. We are a solutions-focused company that delivers tangible business benefits to our clients through the application of state of the art web based technology. The owner started of with a small mailing list and a few informative web pages designed for individuals. In a short time span we  have grown to an establishment catering individuals and businesses worldwide through client satisfaction. We believe that the credit of our success goes to our valuable clients like you. We offer our sincere thanks to all of you who have laid the bricks of our success with your contentment.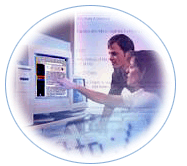 Our Commitment
We are aware of the responsibility and important role we have in your online success. Since our founding, we have always been committed to listening to our customers. Today, as a result, Ekhwan has built one of the most robust, secure and scaleable web solutions platforms available. Ekhwan has established a reputation of providing quality solutions to businesses and individuals seeking solutions to a wide variety of needs.
Our Mission
Ekhwan provides small businesses and individuals quality, reliable services in an intuitive format backed by knowledgeable, responsive, friendly support. We at Ekhwan believe the process of launching websites should be easy and trouble free. We believe our tools and resources speak for themselves.
Our Expertise
Ekhwan is a company of repute in Information Technology related business.
We do have good hands on development of all sorts of websites ranging from simple brochure site to much complex  content management systems and eCommerce sites but our main focus has shifted to providing quality web hosting to all our customers. Dur to this paradigm shift we stay more focused on our core business and  to serve you better,  Ekhwan does out-source with experienced and outstanding partners all to guarantee your happiness. If you are not happy your money will be refunded to you, no questions asked. Please understand that a small processing fee of upto 4.5% will be charged for all refunds.
Please remember that the owner Juzar started off with a few web pages hosted on a free server and has walked all the way to forming a reliable hosting and solutions provider.
We care for your needs and concerns as much as our own. Technical competence of Ekhwan is reliable and efficient.